Generative Textures
The Night Lily combines custom animations with generative techniques to create its mesmerizing textures, never showing the exact same pattern twice.
Atmospheric Effects
As it blooms and wilts with the energy of the forest, the Night Lily emits a sparkling mist of "pollen," stimulating the sense of touch with a cooling sensation.
Full Bloom
During the day it lies mostly dormant—a beautiful flower bud sneaking out now and then for a peek at the world around it. At night, however, the ancient tonic of wildness breathes life into the Night Lily as it blooms into a mesmerizing spectacle of light, color, and motion.
Design
The Night Lily's design strives to achieve an organic vivacity from inorganic components. Its overall form employs forced perspective, making it appear much larger when viewed from below, while the mechanics and materials allow the petals to bloom and flutter naturally in the wind. The projection mapped generative textures are thoughtfully created to fit the flower's shape and movements, and invite the eye to linger.
Community
Sights like this are quite common around the Night Lily, as people come together to cool down in its misty pollen and bask in its soft glow.
Show Control
Custom circuitry, electronics, and software allow the Night Lily's motion, mist, and textures to be controlled through the OSC protocol (or by MIDI or ArtNET DMX after OSC conversion). This enables the Night Lily's dynamic movement to sync with video and other effects, and even be reprogrammed on the fly during a show.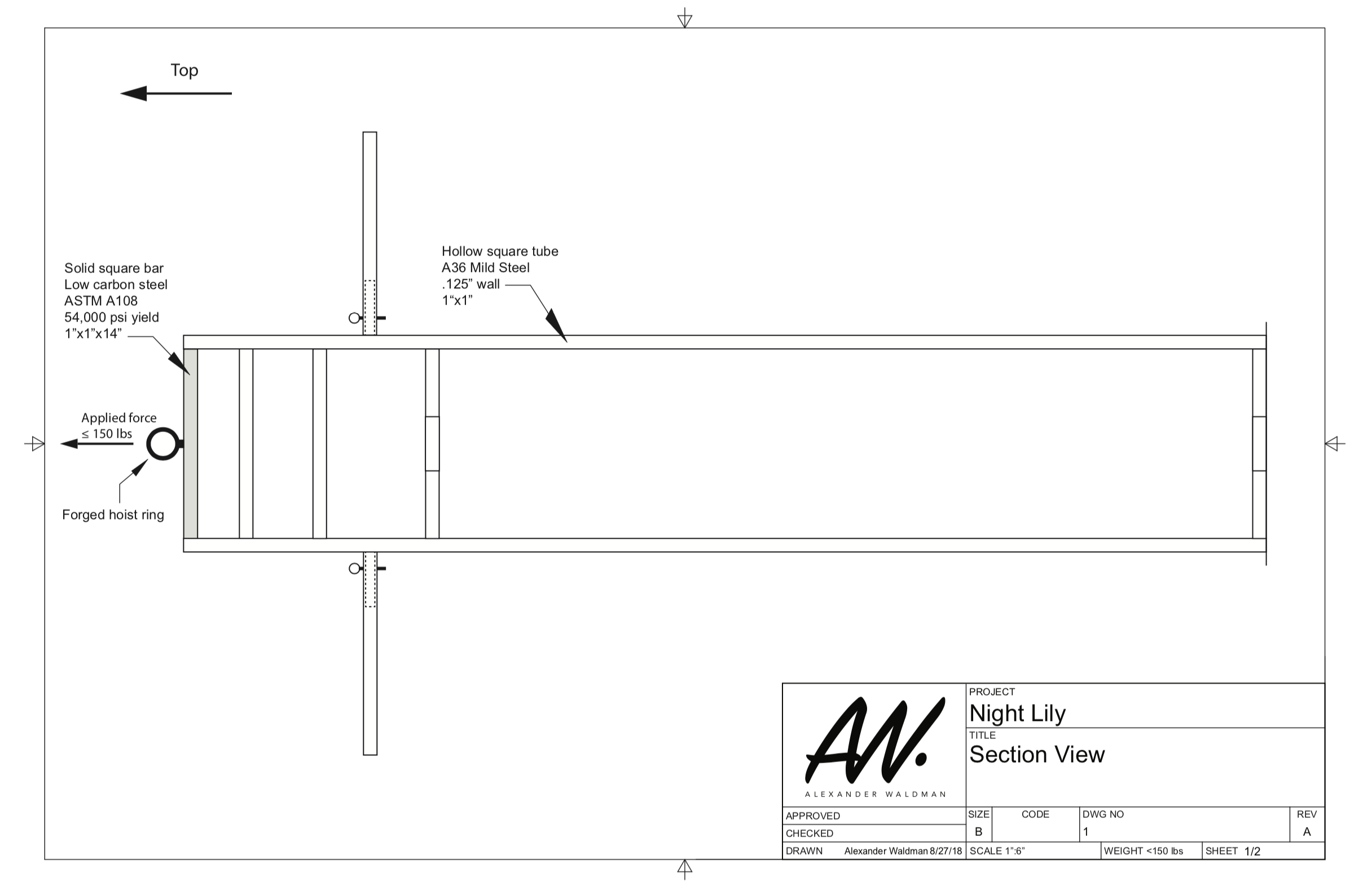 Night Lily V2
After the popularity of the first iteration, the Night Lily was upgraded with a steel frame, several bespoke metal and nylon parts, a more robust housing, a new control server, and a custom IP65-rated cable umbilical with quick-connects, which allow it to operate continuously outdoors for over a month.
Control Server
In addition, the new control server is specifically designed with ample processing power for generative animations, while simultaneously orchestrating the motion and mist effects and enabling remote monitoring and operation. The server, power supply, and video conversion systems are all housed in a customized shock-proof ATA300 flight case outfitted with IP65 rated quick-connections, facilitating easy transportation and fast setup in any venue.
Textiles
Careful attention was paid to the textile selection. The design called for a textile that is weatherproof, wear-resistant, semi-transparent, lightweight, and visually appealing during the day. Ultimately, we used an open-weave synthetic material in a burnout chiffon pattern, interwoven with silver glitter strands which sparkle in the daylight.